Q&A with Home Renovation Powerhouse Mina Starsiak Hawk
This year, the Buffalo Home Show is beyond excited to have Mina Starsiak Hawk, star of HGTV's hit series Good Bones, join us on for our second weekend on March 13 and 14.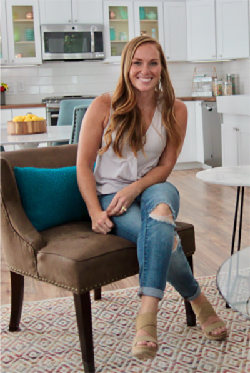 Mina co-founded the home renovation company, Two Chicks and a Hammer, with her mother in the late 2000s, with the goal to revitalize Indianapolis one house at a time. Now, the duo stars in the hit show Good Bones, currently filming it's fifth season!
In addition to Good Bones, Mina is featured in a couple of other tent-pole shows on HGTV including the Very Brady Renovation series and Rock the Block, airing in October. With her resume of hit shows, along with years of renovation experience under her belt, it's easy to see that Mina is a home reno force to be reckoned with.
We wanted to get a peek inside Mina's life and learn about some of her favorite home rehab and design tips. Here's what we learned – spoiler alert: she's all about the faux foliage!
What tool should every homeowner own?
Mina: An impact drill with bits.
Wallpaper: love or hate?
Mina: LOVE!
Are you a plant mama, or is your green thumb lacking?
Mina: My entire house is fake plants!
What's your favorite HGTV or DIY Network series?
Mina: Good Bones, of course!
Best home purchase for under $100?
Mina: Painting supplies!
Tell us about your pets.
Mina: Frank is a 2.5-year-old dogo argentino, Beatrice I rescued at 6 weeks, she's now 12 years old, and Sophie is a rescue pit I got at 2 – she's now 12 as well!
What's your favorite paint color?
Mina: Alpaca and rhinestone.
Any simple tips for upgrading a small bathroom?
Mina: A new mirror and light can make a huge difference along with painting your vanity and switching up hardware.
What are your best landscaping tips?
Mina: Get turf!
Favorite room in your home?
Mina: My kitchen.
So bring your questions to the Buffalo Home Show and meet Mina live and in-person. Make sure to catch her stage presentations on March 13 and 14 on the Main Stage where she'll be sharing all her top tips and tricks. Don't have your Buffalo Home Show tickets yet? Purchase them online and save $2.00 off the box office price!
For more from Mina you can visit her online on Facebook
Feb 13, 2020, 20:31 PM