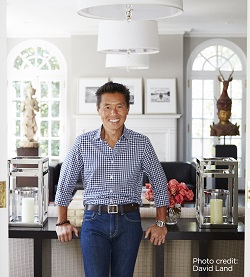 VERN YIP of TLC's Trading Spaces
One room at a time, Vern Yip is designing his way across America, having knocked down walls and made over countless homes and restaurants during his four seasons on TLC's Trading Spaces and during his over ten years as one of HGTV's most recognizable designers. Vern has spread the word on digital home makeovers through AOL and worked hand-in-hand with companies such as Microsoft, Procter & Gamble, Kraft, Newell Rubbermaid, Delta, and Porsche. His award-nominated national commercial for the AT&T U Verse Wireless Receiver aired during some of America's most watched programs, including the 2012 Super Bowl and the 2012 Grammy Awards. In spring of 2013, Diet Pepsi partnered with Vern to release a limited edition Vern Yip can, making him the only interior designer to have ever had his own signature can. Vern just completed over three years with Home Shopping Network (HSN) where he spearheaded the Vern Yip Home line of home décor and still holds the record for most number of sheet sets sold in a single day by a designer brand. Recently, Vern launched the Vern Yip Premium Home Fragrance Collection available through gift and specialty retailers nationwide. In January, Vern launched the Vern Yip for Trend Home Fabric and Trim Collection in partnership with Fabricut. January also saw the premiere of Vern's newest product collaborations which include a line of lighting with Stonegate Designs by AFX and a Home Décor and Accessory collection distributed through OneCoast to retail at brick and mortar gift and specialty retailers nationwide. And Vern has already begun designing the second iteration of his very successful home fabric and trim line with a projected debut in 2017.

Vern's past HGTV projects include four seasons of his own show titled Deserving Design with Vern Yip and two seasons as host and designer of HGTV Urban Oasis. His HGTV work also includes eight seasons of HGTV's top-rated prime-time series HGTV Design Star and several seasons of Bang for Your Buck, where he served as the show's host and design expert. Vern's most recent HGTV project, Live in Vern's House, chronicled the building of his dream beach home. Vern can also be seen on Delta Airlines flights across the globe where he is profiled for Delta's exclusive on-air program On Creativity, showcasing the most creative minds in design and entertainment.

Vern runs his own design company in Atlanta, Vern Yip Designs. With an undergraduate education from The University of Virginia, a M.B.A. and Master of Architecture from The Georgia Institute of Technology, and a honorary Doctorate from the Savannah College of Art and Design, Vern has used his varied educational background to build a distinguished business. His creations and room transformations range in budget from the notoriously frugal showcased on television to eight-figure projects for high-end clients nationwide. Regardless of the budget, Vern's design calling card is his attention to detail married with precise, clean-lined interiors balanced with a sense of warmth. Many elements of his eclectic style demonstrate an influence from his love of travel. Vern has traveled to nearly fifty countries in the past eight years as a travel and design columnist for The Washington Post since 2011, a design advisor to global brands, and as a U.S. Ambassador for UNICEF.

Vern's projects have amassed an impressive list of design awards including: 2015 Design Maverick Nominee, 2003 Distinguished Southerner Award, and 2000 Southeast Designer of the Year. Vern continues to be involved extensively in non-profit work and annually awards scholarships at The Ulman Cancer Fund for Young Adults, where his family established the Vera Yip Memorial Scholarship after his Mother. He's also now in his sixth year working with UNICEF as a U.S. Ambassador to help raise awareness of the needs of children around the world. Vern is passionate about his work with UNICEF and designed the 2009- 2015 UNICEF Snowflake Balls that took place in New York's famous Cipriani and will be returning to design duties for the 2016 Snowflake Ball. He also serves as the Founding and National Chair of The UNICEF Experience and has hosted four installments of the event in Atlanta.

Recognized on the street, in home improvement centers, and in public venues across America, Vern has been prominently featured in publications such as Entertainment Weekly, People, The New York Times, and USA Today. He is frequently seen on NBC's TODAY show, CNN, and Live! with Kelly. In addition to being a New York Times Bestselling Author, Vern is also a travel and design columnist for The Washington Post, a regular contributor to HGTV Magazine and just landed the October cover of Traditional Home. Vern's first book, titled Vern Yip's Design Wise: Your Smart Guide to a Beautiful Home just debuted, spending nearly a week as an Amazon #1 Bestseller and in the overall Amazon Top 15, and landing at #2 on The New York Times Bestseller list.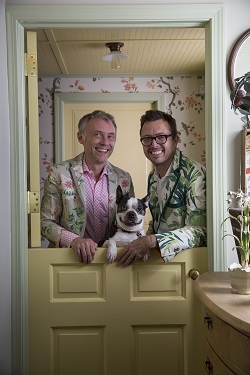 John Loecke and Jason Oliver Nixon of Madcap Cottage
John Loecke and Jason Oliver Nixon are the duo behind North Carolina- and New York-based interior design firm Madcap Cottage. Known for their passion for prints and pattern, the Madcap gents—along with their pound-rescue posse, Jasper, Weenie, and Amy Petunia—scour the world for eclectic finds that capture their unique viewpoint. Imagine a British country house that pairs centuries-old antiques and a spirited dash of Chinoiserie chic with a splash of Morocco-meets-India élan. Shake, stir, then pour. "If you are looking for beige and boring, bark up someone else's tree," quips Jason. "We live and breathe 'whimsy,' but our projects are bespoke, sophisticated, and perfectly catered to our clients' sensibility and 'brand.' They are also spectacularly fun—and always livable. John and I have dogs and nieces and nephews—we get it." Standout Madcap Cottage interiors include a jewel-hued loft in Manhattan's SoHo neighborhood; a color-rich, playful beach house in Southampton, New York; a sophisticated 1920s-era bungalow in Des Moines, Iowa; and a historic shotgun-style cottage in New Orleans' French Quarter. The Madcap Cottage gents run their firm—an ever-changing design laboratory—from the heart of High Point, North Carolina, the hub for American decorative arts. The Madcaps' latest book, "Prints Charming: How to Create Absolutely Beautiful Interiors with Prints & Patterns," will debut from Abrams in October 2017. The Madcap Cottage gents' vintage and antique selections can be found at One Kings Lane and at 1stDibs.com, and their licensed product collections are available through Robert Allen @Home, Howard Elliott, Smith + Noble, and HSN. Follow the Madcap Cottage adventures on Instagram and Facebook, and read their design blog, Demystifying Design, recently named by Domino magazine as one of the Top 100 Design Blogs, at www.madcapcottage.com.