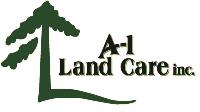 A-1 Land Care Inc. has a long history of serving the Western New York area, with excellence and knowledge. A-1 Land Care Inc. is situated on the location of the former Lombardi Dairy farm and the Lombardi Diner. Incorporating in 2004 A-1 has grown into one of the premier site and landscape contractors in the area. The A-1 Land Care Inc. Garden Center offers a large selection of retail and wholesale landscaping supplies. We also provide bulk topsoil, mulch and stone for delivery or pick-up .A-1 Land Care Inc. provides lawn and turf installation, maintenance and restoration, hydro seeding, drainage and irrigation, landscape/ hardscape design and installation, as well as snowplowing and removal services. A-1 Land Care Inc. is a multi-faceted, innovative company dedicated to being your place to turn to for all things landscape. From homeowners to land developers, small businesses to national corporations, A-1 Land Care Inc. is fully licensed, insured, and bonded to offer a full range of site construction and maintenance solutions for all of our commercial, industrial and residential clients. www.a-1landcare.com
OVERALL LANDSCAPE DESIGN AND PROJECT MANAGEMENT BY:



Several local vendors and installers have pulled together to provide this year's lobby display showcasing a modern farmhouse landscape design. A functional space, simple yet comfortable is anchored by an outdoor cedar backyard refreshment stand built by the students at Erie 1 BOCES. Modern farmhouse design incorporates an overall neutral color palette, accents with a vintage and antique feel, as well as wood elements and furniture with clean modern lines.

Come and chat with our vendors at the front entrance landscape lobby. This year's landscape layout and project management is provided by F&S Design Studio, LLC.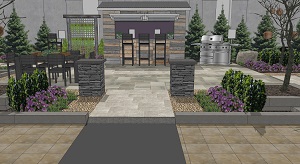 Backyard Refreshment Stand built by Erie 1 BOCES
High school students enrolled in Erie 1 BOCE'S Building Trades program at the Kenton Career & Technical Center have created another impressive structure for the Buffalo Home Show. This 1,500-pound, cedar-lined backyard refreshment stand is approximately 10-ft long by 7-ft wide. With a Corian countertop, a metal roof and electrical connections this building is a perfect for entertaining pool-side or under the stars.

On April 13, the backyard refreshment stand will be sold to the highest bidder during a public auction at Cash Realty & Auctions. All proceeds raised will fund next year's senior class project.

Through their cooperative, Erie 1 BOCES' 19 component public school districts share their resources to meet the evolving educational needs of students. For 60 years and counting, Erie 1 BOCES has helped schools with their instructional and non-instructional needs. With nearly 30 career and technical programs, high school students in Erie County can gain career training during their normal school day.
Interested in learning more? As part of public education, simply talk to a school counselor about joining a program or visit www.e1b.org/cte.