BIG CROWDS. BIG SUCCESS.
Thousands of homeowners converged on the Buffalo Niagara Convention Center for six days of shopping at the 2019 Buffalo Home Show, making it a must-attend event again this year.
Click HERE for the 2019 Post-Show Report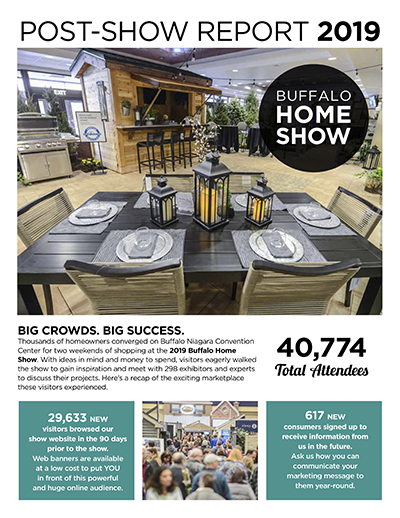 Who Attends
95% own their own home

79% attend the show with their spouse or significant other—meet both decision makers!

90% come to the show with a project in mind
Why They Attend
67% are planning a major renovation project

55% have a kitchen or bathroom renovation project in mind

34% plan to begin a landscape or patio project

44% come to shop for exterior home products and services
This is how we attract qualified visitors
Our strategic marketing campaign targets qualified visitors by way of print, television, radio, direct mail and web based advertising and public relations coverage. Fresh features, hot celebrities and quality exhibits attract new and loyal show-goers alike.