Indoor Air Professionals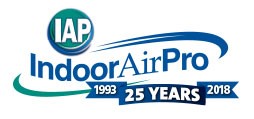 Booth: 1111
800 Commerce Parkway
Indoor Air Professionals offers quality care for your indoor air with a wide choice of products and services, from superior air duct cleaning technology to air purifiers and more.
Visit us at the show and find out why IAP is the choice of more than 30,000 home owners in Western New York.
Air Duct Cleaning Specialists
Certified by the National Air Duct Cleaning Association (NADCA)
Medical Grade Air Purifiers, removes up to 99.9% airborne bacteria and viruses
Mold Testing and Remediation, expert services
Kanberra Gel All Natural Air Purifier in a jar, don't mask odors, remove them
Air Filters for heating and cooling systems
3-ply, antimicrobial
Dryer Vent Cleaning, ask about dryer vent alarms
CO Detectors
Find more information and shop for products online.