Buscaglia Decks and Powered Pergolas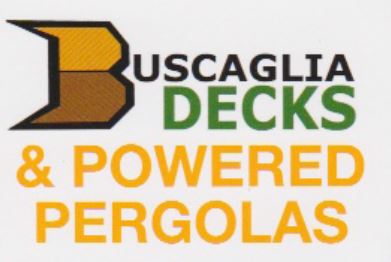 Booth: 1101
17 Ann Marie Dr.

BUSCAGLIA DECKS AND POWERED PERGOLAS WAS ESTABLISHED IN 1987, AND BUILDS BEAUTIFUL DECKS AND PORCHES WITH UNMATCHED QUALITY AND ATTENTION TO DETAIL. WE FEATURE EON MAINTENANCE FRIENDLY DECKING WHICH CARRIES A 20 YEAR WARRANTY AND IS UNMATCHED IN ITS RESEMBLANCE TO WOOD. WE OFFER A VARIETY OF BALUSTERS AND RAILING STYLES ALONG WITH LIGHTING TO ENHANCE THE INDIVIDUALITY OF YOUR DECK.

OUR DESIGNS ARE UNRIVALED IN THE INDUSTRY AND HAVE BEEN FEATURED IN MANY MAGAZINES AND PROMOTIONAL MATERIALS ACROSS THE COUNTRY. SO WHETHER SIMPLE OR COMPLEX, OUR DESIGNS AND PRODUCTS WILL FIT YOUR NEEDS WITH FUNCTIONALITY AND EFFICIENCY WITHOUT THE SACRIFICE OF BEAUTY AND LONGEVITY.

CHECK OUR WEBSITE FOR A PICTURE GALLERY OF OUR WORK, AND CALL US FOR YOUR FREE ESTIMATE TODAY.

WE WILL HAVE A 10 X 15 DECK AND OPERATIONAL POWERED PERGOLA IN THE SHOW FOR YOU TO EXPERIENCE FIRST HAND.

**WE NOW CARRY COMMERCIAL GRADE ALL ALUMINUM PERGOLAS IN 3 POWDER COATED COLORS, WITH MOTORIZED LOUVRES WHICH OPEN FOR SUN AND CLOSE FOR SHADE OR WATERPROOF ROOF ALL AT THE TOUCH OF A BUTTON.